Community Development Block Grant
Public Facilities & Improvements
City Stadium Basketball Court Improvements
Renovation of Glen Cove City Stadium basketball courts, funded with Nassau County CDBG 47th and 48th year public facility improvement (PFI) grant funds.  The funds were used for resurfacing/striping the asphalt, purchase of six basketball backboards, rim and net replacement resulting in a much-needed upgrade to this highly trafficked facility.  The public service agencies that service low/moderate income youth, such as the Glen Cove Boys & Girls Club, EOC, Child Day Care Center and Youth Bureau as well as residents of the Glen Cove Housing Authority will utilize this free public amenity along with all city residents that will benefit from this activity.
Pedestrian Improvements
Glen Cove Public Facilities Improvement completed in part with Community Development Block Grant (CDBG) funding under the Pedestrian Improvements program. The project included planning, design, and construction of pedestrian improvements in downtown Glen Cove, specifically the replacement of 28 curb ramps and upgrades to 16 crosswalks on Bridge, Glen, and School Streets. The project also included the addition of a new crosswalk and curb ramps on School Street in a location where there was not previously a crosswalk and curb ramps. The project has enhanced the visibility and durability of crosswalks, brought curb ramps into compliance with Americans with Disabilities Act (ADA) standards, fixed ramps that had been in a state of disrepair, and improved pedestrian safety in downtown Glen Cove. (Pictured are Mayor Pamela Panzenbeck, CDA Director Ann Fangmann, and; Kevin Crean, Director, Terry Dukes, Deputy Director; and Donald Crosley, Deputy Director of Nassau County Office of Community Development)
Glen Cove Public Facilities Improvement completed with Community Development Block Grant (CDBG) funding under the Downtown Wayfinding Signage program.  Three kiosks were designed and installed in strategic locations throughout the Downtown BID, including near the Brewster Street Garage, next to City Hall, and in front of the Police Station at the NICE bus stop. (Pictured are Mayor Pamela Panzenbeck, CDA Director Ann Fangmann, and; Kevin Crean, Director, Terry Dukes, Deputy Director; and Donald Crosley, Deputy Director of Nassau County Office of Community Development)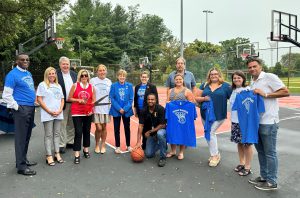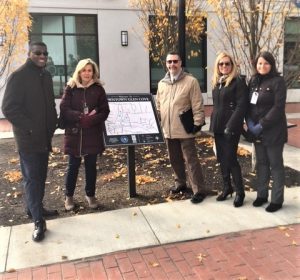 Residential Rehabilitation Program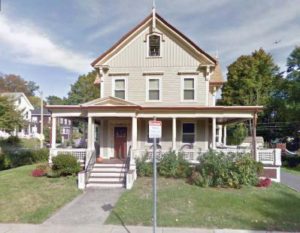 The City of Glen Cove is pleased to offer Community Development Block Grant funds for income eligible senior citizens age 60+ and/or handicapped persons to make home repairs consisting of energy conservation, remediate code violations and handicap accommodations.   Funding is available to Glen Cove resident homeowners who have lived in their home to be improved for a minimum of one (1) year, who meet HUD income guidelines, and are current in the payment of property and school taxes.  Since reinstating the program in 2014, the CDA has assisted dozens of resident homeowners in making repairs to their home.  The CDA is accepting applications for the 2023-24 program year; click on the link to submit a pre-screening application.
Economic Development Incentives
The CDA can assist businesses in eligible funding areas that also meet one of the three broad national objectives of the Community Development Block Grant program as follows:
1. Provide a benefit to low and moderate income persons according to the 2020 census tract data in accordance with HUD CFR 570.202. Eligible census tracts are highlighted in yellow on the census tract map.
2. Prevention or elimination of slums and blight.
3. Meet a community need having a particular urgency.
The program is a reimbursable, matching grant subject to the recommendation of the CDA Executive Director and final approval by Nassau County Office of Community Development. Click on "Applications and Forms" for Commercial Facade and Sign Grant program guidelines and application.
Please visit the "Sound Invest" page for Economic Development and Small Business Resources available to businesses.
Commercial Rehabilitation Program
 The Glen Cove CDA offers a matching grant commercial rehabilitation program.  The program offers façade improvements for storefronts in eligible census tracts.  Commercial rehabilitation funds can include windows, doors, awnings and outdoor lighting and/or other improvements determined eligible by the Executive Director.  The program is offered on a first come/first serve basis.
[/vc_row_inner]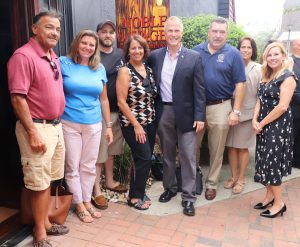 The Glen Cove CDA's Sign Program offers a maximum of $1,500.00 per sign, not to exceed 50% of the total cost of the sign, based on funding availability,  for CDA board approved signs to business owners in our downtown eligible census tract areas.  Applicants must secure a City of Glen Cove Building Department permit before completing the Sign Grant application and return it to the CDA for approval.
Photo by Firestar Schlesinger
Section 8 Housing Choice Voucher Program
The Section 8 Housing Program was established by Congress in 1974. The program is administered in every state throughout the country. Glen Cove's Section 8 Housing Assistance Program is administered with funding provided by the U.S. Department of Housing & Urban Development (HUD). The Section 8 Program helps eligible families, that fall within the income guidelines determined by Nassau County, afford permanent rental housing, subsidizing a portion of the monthly rent.
Tenant-based vouchers increase affordable housing choices for very low-income families (i.e. families with income below 50% of area median income). Families with a tenant-based voucher choose and lease safe, decent, and affordable privately owned rental housing that meets HUD's Housing Quality Standards (HQS) and has a reasonable rent as compared to other units in the area.
The Glen Cove Section 8 Program has 340 vouchers for rental housing. The Program received over 700 applications on-line during a three-day window (8/16-8/21/21) wherein the waiting list was reopened.  Only 500 applications were accepted via lottery.  Applicants whose application was accepted into the lottery received an "active status" reply from the software system.  To check to see if your application was chosen and your placement on the wait-list, please visit:  www.waitlistcheck.com and enter your user name and password.  The staff will be contacting applicants in the order their application was received in the lottery on a regular basis beginning in October 2021.
NEW PROGRAM PARTICIPANTS WILL BE REQUIRED TO WATCH AN INFORMATIVE VIDEO THAT DESCRIBES HOW THE HOUSING CHOICE VOUCHER PROGRAM WORKS.  EXISTING PROGRAM PARTICIPANTS ARE ALSO ENCOURAGED TO WATCH THE VIDEO.
 Glen Cove Housing Choice Voucher Program NY-121 5 Year Administrative Plan FY2020-2024 (click here)
Glen Cove Housing Choice Voucher Program NY-121 Annual Plan FY2023 (click here)
===============================================================
Please click below to view the current Section 8 Administrative Plan, Fair Market Rents/Income Limits, Fair Housing Equal Opportunity Resources, City of Glen Cove Fair Housing Policy
2020 Affirmative Action to Fair Housing Equal Opportunity Resources
City of Glen Cove Fair Housing Policy/Grievance Procedure
[/vc_column_inner]
[/vc_column_inner][/vc_row_inner]