Community Development Block Grant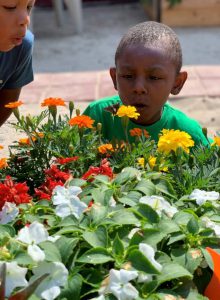 The Glen Cove Community Development Agency, is currently assisting the following Public Service Agencies through the Community Development Block Grant, ("CDBG"):
Public Facilities & Improvements
Glen Cove Public Facilities Improvement completed with Community Development Block Grant (CDBG) funding under the Streetscapes program.  This walkway leads pedestrians from Pulaski Street downtown parking garage to School Street.  CDBG funds paid for the Pergola and the City of Glen Cove repaved the walkway, painted the facades of the buildings, removed overgrown brush and added beautiful plantings.  The Glen Cove Business Improvement District will soon be adding benches and new light fixtures to further enhance the ambiance and safety of the environment for all residents who shop, dine and attend social gatherings in our downtown.  (Pictured here are Mayor Tim Tenke and Terry Dukes, Deputy Director of Nassau County Office of Community Development)
Glen Cove Public Facilities Improvement completed with Community Development Block Grant (CDBG) funding under the Parks/Playground program.  The newly resurfaced/restriped Pickle Ball Court in Stanco Park is a free public amenity most popular with the senior citizen population. (Pictured are Mayor Tim Tenke and Terry Dukes, Deputy Director of Nassau County Office of Community Development)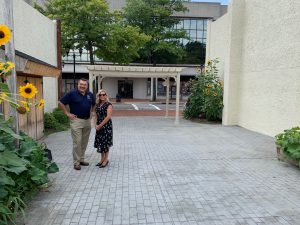 Residential Rehabilitation Program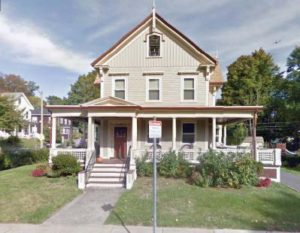 The City of Glen Cove is pleased to offer Community Development Block Grant funds for income eligible senior citizens age 60+ and/or handicapped persons to make home repairs, energy conservation, remediate code violations and handicap accommodations.   Funding is available to Glen Cove resident homeowners who have lived in their home to be improved for a minimum of one (1) year and who meet HUD income guidelines and are current in the payment of property and school taxes.  Since reinstating the program in 2014, the CDA has assisted nine resident homeowners in making repairs to their home.  The CDA is accepting applications for the 2020-21 program year; click on the link to submit a pre-screening application.
Commercial Rehabilitation Program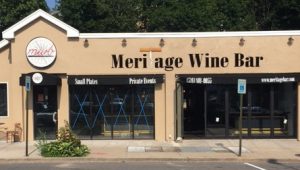 The Glen Cove CDA offers a matching grant commercial rehabilitation program.  The program offers façade improvements for storefronts in the downtown area.  Commercial rehabilitation funds can include windows, doors, awnings and outdoor lighting.  The program is offered on a first come/first serve basis.
Section 8 Housing Choice Voucher Program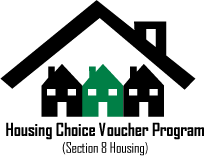 The Section 8 Housing Program was established by Congress in 1974. The program is administered in every state throughout the country. Glen Cove's Section 8 Housing Assistance Program is administered with funding provided by the U.S. Department of Housing & Urban Development (HUD). The Section 8 Program helps eligible families, that fall within the income guidelines determined by Nassau County, afford permanent rental housing, subsidizing a portion of the monthly rent.
Tenant-based vouchers increase affordable housing choices for very low-income families (i.e. families with income below 50% of area median income). Families with a tenant-based voucher choose and lease safe, decent, and affordable privately owned rental housing that meets HUD's Housing Quality Standards (HQS) and has a reasonable rent as compared to other units in the area.
The Glen Cove Section 8 Program has 340 vouchers for rental housing. The Program is not currently accepting applications.
NOTICE OF PUBLIC HEARING, Glen Cove Housing Choice Voucher Program
Notice is hereby given that, pursuant to the U.S. Department of Housing and Urban Development Interim Rule 24 CFR Part 903.17, a public hearing to review adjustments to the City of Glen Cove Housing Choice Voucher Program (HCVP) (NY121) Annual Plan (FY2020) for inclusion into the 5-Year Plan (FY 2020-2024) will be held virtually during the Glen Cove City Council Meeting on 11/10/2020 at 7:30PM.  The public can view the meeting on the City of Glen Cove website as follows:  http://www.glencove-li.us/citycouncillivestream/ – instructions will be posted for submitting questions or comments during the hearing.
The purpose of the hearing will be to discuss amendments to the Annual Plan for inclusion in the 5-Year Plan of the Glen Cove HCVP that include Limited English Proficiency (LEP) Plan as well as affirmative measures undertaken to ensure Fair Housing and Equal Opportunity (FHEO).
Questions or comments concerning NY121 (FY2020) Annual Plan and/or its (FY2020-2024) 5-Year Plan will be accepted in writing through 11/13/2020 by mail to:  Fred Moore, Program Administrator, Glen Cove Housing Choice Voucher Program, 9 Glen St., Glen Cove, NY  11542 or by email  to fmoore@glencovecda.org .  The plan will be available for viewing on-line at:  http://glencovecda.org/programs  wherein the responses to all questions or comments received will be posted by 11/20/2020.
Glen Cove Housing Choice Voucher Program NY-121
PHA 5 Year Plan Amendment – FY2020-2024
11/10/2020 – 11/20/2020 Public Hearing Questions/Comments
Question:  Rodrick Watson Question call-in during Public Hearing
On the LEP Plan, Mr. Watson asked how we handle translation services when an applicant is filling out an application and may need help. Do we offer the application in Spanish? Is there a free service through the State or otherwise that would allow a three-party phone conversation to help with translation services? Are there any circumstances where we need to get involved between a tenant ad a resident where there is a language barrier? How do those transactions/negotiations occur?
Response:
The Agency will be offering an online application through Happy software and it is translatable into 70+ languages.
Spanish/Italian speaking participants typically bring a relative with them to translate but we have on-site staff members who speak/understand both Spanish and Italian.
Other languages are translatable through a pocket device called the "Pocket-call" which translates 27 languages by speaking into it and it translates into the desired language.
The Agency does not typically get involved with communications/negotiations between a landlord and a program participannts. The City of Glen Cove works with the Hispanic/Latino non-profit group, LaFuerza Unida, who have bilingual staff and case workers to assist Spanish speaking constituents.  The City of Glen Cove also has a Sons of Italy chapter in Glen Cove and many Italian speaking employees to assist Italian speaking constituents.
===============================================================
CALLING ALL LANDLORDS!
What is the Housing Choice Voucher Program (HCVP)?
Federally funded program administered by Glen Cove Community Development Agency, City of Glen Cove Housing Choice Voucher Program
Provides housing assistance to eligible families
Subsidy provided for a portion of each tenant's monthly rent
The landlord is paid directly and promptly
Glen Cove Housing Choice Vouchers receive additional HUD 10% exception, due to higher area market rents as follows: Studio:  $1,477; 1BR: $1,824; 2BR: $2,238; 3BR: $2,866; 4BR: $3,185 (minus the utility allowances). These rents go into effect 11/1/2020.
For further information and to be included on the Glen Cove Section 8 Landlord List, call (516) 676-1625 or via email at fmoore@glencovecda.org
Financial Incentives to landlords during Covid social distancing:
$1,500 for the first apartment rented with the program;
$500 for each new unit thereafter.
To increase landlord participation and create new housing opportunities for households with vouchers, Glen Cove Housing Choice Voucher program is offering landlords $1,500 for their first new unit with the program. Thereafter, landlords will receive $500 for every new unit leased with the program.
Current participating landlords are eligible for the $500 incentive for each new unit leased with the program.
NOTE:  Incentive is available only until Federal Cares Act funding is exhausted.  Incentive to be paid upon participant moving into the unit, subject to 1 year lease on or after 11/1/2020.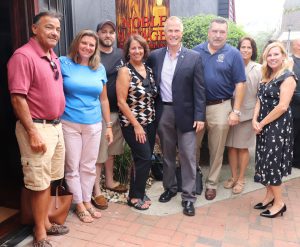 The Glen Cove CDA's Sign Program offers a maximum of $1,500.00 per sign, not to exceed 50% of the total cost of the sign, based on funding availability,  for CDA board approved signs to business owners in our downtown eligible census tract areas.  Applicants must secure a City of Glen Cove Building Department permit before completing the Sign Grant application and return it to the CDA for approval.
Photo by Firestar Schlesinger
Economic Development Incentives
The CDA can assist businesses in eligible funding areas that also meet one of the three broad national objectives of the Community Development Block Grant program as follows:
1. Provide a benefit to low and moderate income persons according to the 2010 census tract data in accordance with HUD CFR 570.202. Eligible census tracts are highlighted in yellow on the census tract map.
2. Prevention or elimination of slums and blight.
3. Meet a community need having a particular urgency.
The program is a reimbursable, matching grant subject to the recommendation of the CDA Executive Director and final approval by Nassau County Office of Community Development. Click on "Applications and Forms" for Commercial Facade and Sign Grant program guidelines and application.
Please visit the "Sound Invest" page for Economic Development and Small Business Resources available to businesses.